So everyone has this mentality that you need to throw Pounders or any of the Big Rubber when catching huge musky in the Fall, sure you'll have more consistency throwing bigger lures for bigger fish, but you'll fuck yourself in the long run while doing so. Mark my words, for those musky anglers that throw big rubber all day long, on a daily basis, some of these fishermen will definitely have back problems later in their life...
Considering the way musky anglers rip Bulldawgs constantly after every cast, I hope you're aware that movement isn't natural for your back. Comparing fishing to other sports like bodybuilding, I'm not always looking to take steroids which will get me muscles short term, but later screwing up my health later in life, but I'm looking to do the sport naturally so I can have a healthier life and enjoy the sport longer. This goes the same for musky fishing... I've heard some stories of musky angler getting so infatuated with the sport, bought this biggest lures and most expensive baitcasters, then eventually getting worn out due to the amount of work and money that goes into it, truth be told that's why a lot musky fishermen just troll for these beasts! And remind you, you don't have to buy a baitcaster...
Look, you can have the most athletic body like Tiger Woods, but despite having perfect developing his upper body, even Tiger ended up having back surgery due to all the swinging he's done in his career, no pun intended, not that type of swinging, I mean driving his golf club.
Getting past all that, as one musky fishermen I met at Metro Park put it, if you look up some of the master angler awards for musky, some of the biggest musky have been caught on some of the smallest lures. So that's why here and there, I'll switch from these mammoth size musky lures to something smaller and lighter like these giant bass baits instead. Even Robbie from Today's Angler has shown the benefits to using these smaller lures.
The mega size Strike King line of hard baits caught my eye when Kevin VanDam and the company started coming out with the 10XD and 8XD. I knew these supersized crankbaits would become very valuable lure for big bass in deeper water, but also for muskellunge as well. What turned me onto musky fishing is when I caught a 43 inch musky on a Blue Fox Double Spin, not a very large inline spinner, but the musky seem to really love that lure, because I had caught numerous 40 inchers on that spinner.
A 3 or so years ago when I was at Cabelas in Dundee, I had spotted the
Strike King 8.0 Squarebill
on the shelf, the giant size had caught my eye, as it stood out from all the rest of bass baits on the shelf. I said to myself, well I bought the 10XD for musky fishing in deeper water, I wouldn't be surprised if this would work for musky in the shallows. Little did I know it would become one of the most valuable musky lures I use from the shoreline.
Not like I've really used the crankbait that much, so far I've caught about 4 musky last Fall with it. And I got out 4 times this fall at Metro Park and caught a 41 inch musky. So even though I don't have much mileage with this giant hard bait, it has some really great consistency on catching musky from the shoreline, I have yet to even try it out on the boat or even in the summer.
I'm blown away how attracted musky are to this crankbait, it's a musky magnet. I seriously think it has a lot to do with the wide wobble and hard thumping action it gives off when reeling. I keep my rod tip up to make the Squarebill work even harder, simple physics, if you can raise your line and rod tip higher, it's going to cause more water resistance against the squarebill lip.
The wobble action is so impressive on this lure, I'd say the vibration is comparable to a chatterbait! And I'd say that's what makes this crankbait so valuable for that particular feature, making it a vibration magnet when the water gets really murk in November and December. And you can even reel this crankbait at a very slow pace yet still gives off a very hard thumping action. I always perform the stop and go retrieve, sometimes the musky will smack it when I just let it rise almost to the surface, sometimes I stop for a good 10 seconds when I'm talking to someone and a musky ends up hitting it. The bright chatreuse color is just another plus! Strike King actually has numerous colors that really pop like Delta Red, Black Chartreuse, and Chatreuse Shad.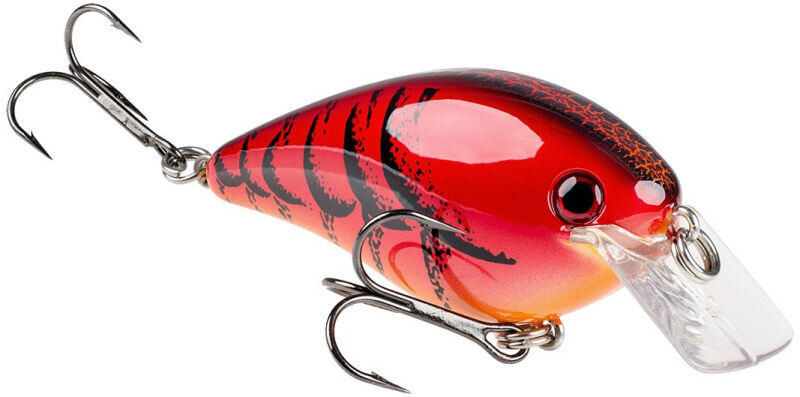 And I must say, I really love the way this light crankbait flies through the air, only coming in at 1 1/8 ounce, a lot lighter than most musky lures like a Bull Dawg or Shadzilla, this bad boy is easy on your joints and can cast as far as the eye can see. Cuts through even the windiest of weather as well! If you use a salter spinning reel like the
Shimano Stradic C5000
, you can cover more ground and get even longer casts from the shoreline. And as Northern Mike always says with bass fishing, more ground you can cover, the odds of catching fish extremely goes up. This goes the same for musky fishing, really great motto for fishing in general!
I'm so infatuated with this lure that I bought 6 of them, it's always good to stock up because you never know if a fishing company is going to discontinue a unique lure like this, because odds are that not a lot of bass fishermen buy these mammoth size hard baits because you need a really heavy duty rod and reel. I think for the most part, bass anglers will go as big as the Strike King 4.0, but that's basically it.
Also, I would of mentioned this in my video review if I had known at this time, but I didn't.
Northern Mike was the fisherman who found another squarebill crankbait that's basically a spittin image of the Strike King 8.0, but it's actually larger. It's the
6th Sense Cloud 9 Magnum SB 9.8
. I haven't tried it yet, but since it's basically a squarebill too, I'm sure this will have just as much fish catching power as the Strike King 8.0. Considering they're also calling it the Magnum, I'm sure 6th sense basically just pretty much copied the design. The colors are eye catching and quite different than the Strike King 8.0 though, so it may be worth purchasing both, that's what I plan on doing. And if you notice, the SB 9.8 is a little heavier and dives up to 10 feet, so this might be better for deeper water.
All in all, I'd give the Strike King 8.0 Squarebill Magnum a 5 out 5, it's become one of my go-to baits for musky fishing, especially in the Fall and from the shoreline, I really can't wait to try it out on the boat or in summer. I need to purchase some of the darker colors for when the water clarity is quite clear out on Lake St. Clair.
Last edited: